Kiyora Miki (三木 清良 Miki Kiyora) is a prodigious violinist Chiaki met at the Nina Lutz's seminar and later join the R☆S Orchestra as concertmaster.
Kiyora Miki
English
Kiyora Miki (only)
Occupation
Violinist ; Concertmaster
Alias
Prodigious Violinist Miki
Friends
R☆S Orchestra members
Appearance
Edit
She has black hair as well as her eyes and has pale skin tone. She is usually seen wearing casual dresses.
Personality
Edit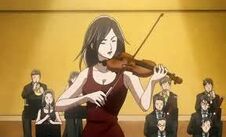 A prodigious violinist Chiaki met at the Nina Lutz's seminar, she joins him to form the R☆S Orchestra as his concertmaster. She also becomes Mine's girlfriend. In all media, she had studied abroad in Vienna and had received private tutoring from the Berlin Philharmonics concertmaster, Kai Dowin. She also returns abroad a year after they started the R☆S Orchestra, after she is replaced as concertmaster of R☆S by Noriyuki Takahashi. In the live-action version, she was a student of Momogaoka and concertmaster of A Orchestra, where she became friends with Masumi.
She has a kind and demeaning quality.
Sorry, we are still ongoing with plot summaries. Visit here if you want to help.
Ad blocker interference detected!
Wikia is a free-to-use site that makes money from advertising. We have a modified experience for viewers using ad blockers

Wikia is not accessible if you've made further modifications. Remove the custom ad blocker rule(s) and the page will load as expected.