Maestro Franz von Stresemann (フランツ·フォン·シュトレーゼマン Furantsu Fon Shutorēzeman) is a famous German conductor that comes to Momogaoka Music Academy as guest instructor.
Franz von Stresemann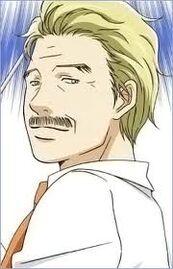 English
Franz von Stresemann (French)
Kanji
フランツ·フォン·シュトレーゼマン (Hiragana only)
Romaji
Furantsu Fon Shutorēzeman
Occupation
Conductor ; Maestro
Spouse/Partner
Shinichi Chiaki
(protege)
Sebastian Viera (former friend and rival)
Elise (agent and Business Manager)
Appearance
Edit
He has a yellow green hair and eyes. He has a black mustache (yellow green in Live-Action) and a pale skin tone. He usually wears formal clothes like tuxedos.
Personality
Edit
Stresemann is an elderly, highly-respected internationally famous conductor who comes to Momogaoka Music Academy as a guest instructor. In love with the Academy's Director, Minako Momodaira. He comes as a favor and immediately is pegged as an oddball lecher. Perverted, demanding, and not at all dignified, Stresemann seems to be opposite of what his reputation makes him. Stresemann, however, immediately takes to Nodame, and even accepts Chiaki as his one and only apprentice after repeatedly rejecting his application to enroll in his conducting classes. His wild behavior constantly gets Chiaki in trouble, but he also teaches him how to feel and express music in a way that only he can. He often takes his orchestra out for mixers or group dates, and go to night clubs and host clubs (especially a place called One More Kiss) instead of attending the rehearsals he is supposed to conduct. He also gets drunk easily, forcing Chiaki to take over for him as vice-conductor.
Sorry, but we are currently ongoing with plot summaries.

Ad blocker interference detected!
Wikia is a free-to-use site that makes money from advertising. We have a modified experience for viewers using ad blockers

Wikia is not accessible if you've made further modifications. Remove the custom ad blocker rule(s) and the page will load as expected.