Saiko Tagaya (多賀谷 彩子 Tagaya Saiko) is Chiaki's former girlfriend and is a major in opera singing.
Saiko Tagaya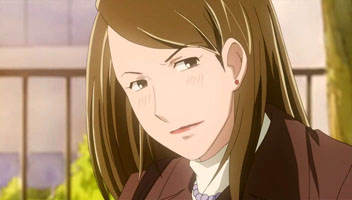 English
Saiko Tagaya (only)
Occupation
Opera Singing major
Appearance
Edit
She has a long forest green hair and green eyes. She wears red pair of earrings and red bead-patterned necklace. She has a pale skin tone.
Personality
Edit
Despite breaking up with Chiaki, Saiko has been in love with him all along. She broke up with him because when it came to music, he was equally critical of everyone including her, and yet even though he was far more talented than everyone (and herself), he was the most critical of himself, and that made it hard being with him. After breaking up with Chiaki she goes through a few relationships, but because of her lingering attraction to Chiaki, is never able to fully put him behind her.
Later on, she comes to terms with the fact that Chiaki has moved on without her, and presumably moves on as well. Saiko sometimes exhibits a spiteful streak in her, especially to those whom she views as rivals, but is also capable of gentleness. Once, when a drunken Nodame bumped into Saiko at a karaoke restroom, Saiko first smacks her away, then after realizing Nodame was drunk, gave Nodame her shawl before leaving.
Sorry, but we are still ongoing with plot summaries. If you want to help, please do visit here.